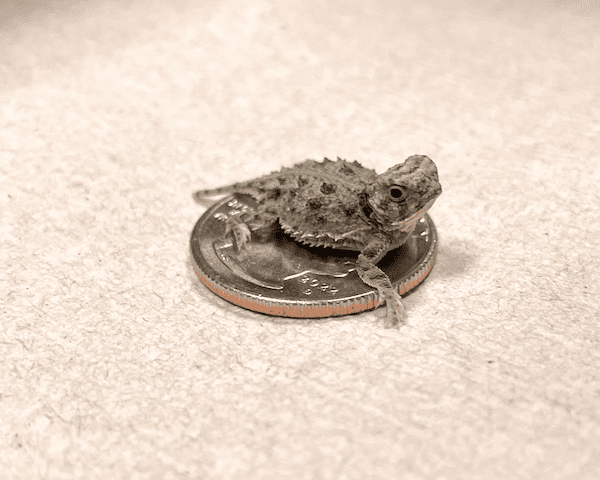 The Center for Conservation and Research at San Antonio Zoo is thrilled to announce another successful Texas horned lizard hatching, the first of many expected clutches of the season. These Texas horned lizards will be released into the wild in the fall. The arrival of the thirty-four hatchlings with more viable eggs developing is a tremendous step forward for the Texas Horned Lizard Reintroduction Project, which will bolster the survival of their species here in South Texas.
Since launching the project in 2017, the Center for Conservation and Research team has been diligently working on breeding and preserving the State Reptile of Texas by utilizing Geographic Information System (GIS) data, genetics, and current knowledge about horned lizard ecology and distribution to release large numbers of captive-born individuals in suitable habitats. To monitor the lizards after their release, San Antonio Zoo utilizes a horned lizard detection dog, a specially trained dog to detect and track lizards. Before the release of horned lizards, the dog will detect the presence or absence of any existing horned lizards on potential release sites.
"I am incredibly proud of the work we are doing to bring back the beloved Texas horned lizard," said Tim Morrow, President & CEO of San Antonio Zoo. "While we have a multitude of global conservation projects, it's especially rewarding to be able to secure a future for wildlife right here in Texas for a state icon."
Many people have fond memories of growing up with the Texas horned lizard, more commonly known as the horny toad. Once abundant throughout Texas, this reptile's population has declined or disappeared altogether in many parts of the state, so much so that it is now on the state's threatened species list. Habitat loss and fragmentation, as well as invasive species, are believed to be contributing factors. According to Texas Parks and Wildlife, in 1993, a group of schoolchildren successfully petitioned the Texas Legislature to name the Texas Horned Lizard the official state reptile, thus recognizing June 18 as Texas Horned Lizard Day.
In 2021, San Antonio Zoo, in partnership with Freetail Brewing Company and Silver Eagle Beverages, unveiled a new Conserveza beer can design that featured the Texas icon, the Texas horned lizard or horny toad.
Staff at San Antonio Zoo have been executing field and laboratory components as part of the Texas Horned Lizard Reintroduction Project—surveying and monitoring habitats while breeding and caring for offspring. As the project grows, San Antonio Zoo hopes to release thousands of horned lizards annually. Funding is needed for conservation operations and equipment necessary for maintaining a robust program. Donations can be made on the zoo's website, www.sazoo.org/texas-horned-lizard.