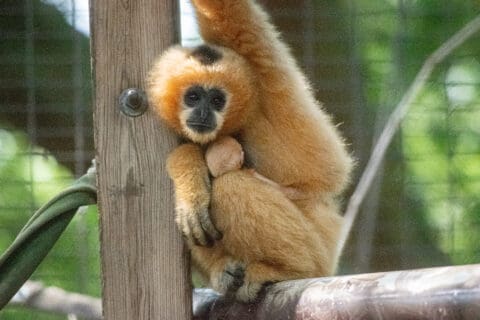 Exciting news from the Houston Zoo! A male northern white-cheeked gibbon was born on May 30th to Ting and Max, first-time parents. This is the first time this species has been born at our zoo. You can visit the adorable new family at the Wortham World of Primates, nearby to the De Brazza's monkeys. While everything seems to be going well with the mother and baby bonding, our animal care team is keeping a close eye on them during this crucial time. The keepers who care for the gibbons will have the honor of naming the newborn.
Northern white-cheeked gibbons are critically endangered in the wild, native to southeast Asia, Vietnam, and southern China. Sadly, their population has decreased by 80% over the past few decades due to habitat loss and poaching. These unique primates have a lot of interesting features, including being the only dimorphic species of gibbon when it comes to fur color. They're born a cream color and then turn black when they're around two years old, which is when they develop their distinctive white cheek patches. Males retain their black color, while females gradually revert back to the cream color. White-cheeked gibbons also have exceptionally long arms, which are even longer than their legs. This physical feature helps them swing from tree to tree.
By visiting Houston Zoo, you can help us save wild primates all around the world. A portion of each Zoo membership and admission ticket funds the Zoo's remarkable wildlife conservation work in Asia, Africa, and South America. Our initiatives include equipping anti-poaching patrols, protecting and restoring habitat through reforestation projects led by locals, and providing expert veterinary care to rehabilitate injured and sick primates.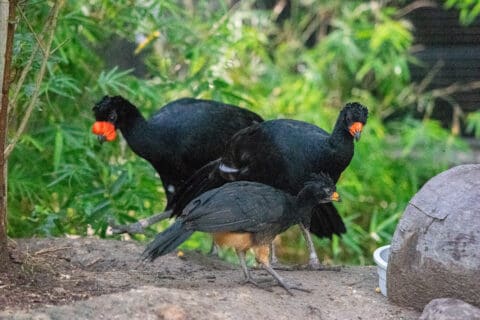 In other news, the Houston Zoo is so delighted to announce the birth of a rare wattled curassow chick, one of the Zoo's most successful breeding achievements in 20 years. This is the first time in almost three decades that a wattled curassow hatchling is being raised by its parents at a zoo. Wattled curassows are endangered, and there are only 25 birds across five organizations within the Association of Zoos and Aquariums (AZA). Six of them live at Houston Zoo. The hatchling is staying close to its parents in the Savanna Aviary inside South America's Pantanal.
Wattled curassows are distinct birds from the Amazon rainforest, residing in Bolivia, Brazil, Colombia, and Peru. Sadly, their numbers have declined significantly due to habitat loss, hunting, and predation. For the past 20 years, Houston Zoo has been one of the top zoos to successfully breed wattled curassow chicks and increase the numbers of the endangered species in accredited zoos.
Female wattled curassow incubate the egg while the male guards the nest with his brilliant white feathers and unique wattles and knobs. Females have a red-brown coloration, while males have white feathers and the iconic wattles and knobs, indicative of their name. These birds have a unique whistle that is easily recognizable.
By visiting Houston Zoo, you can help us save wild birds like the curassows in South America. A portion of each Zoo membership and ticket goes toward supporting replanting trees in South America. The Zoo also serves Bird Friendly Coffee, which is grown in a way that provides a suitable habitat for birds and other wildlife. Bird Friendly coffee farms rank just beneath virgin rainforest in terms of their importance as a habitat for wild birds.