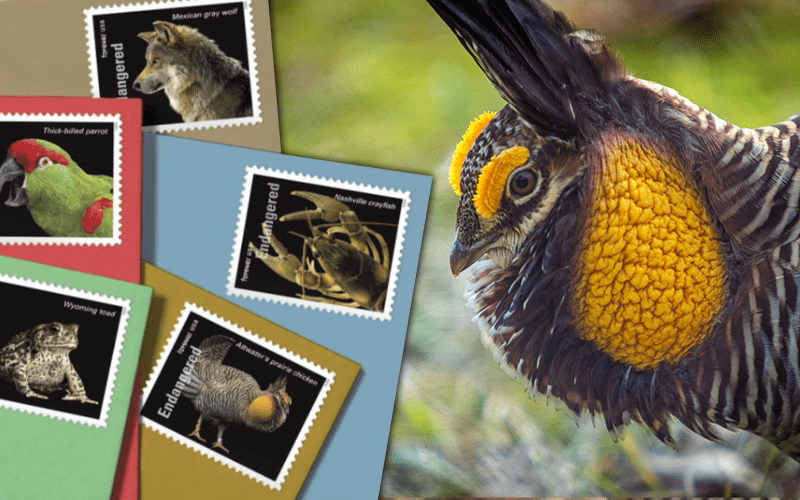 The Caldwell Zoo has announced that an esteemed animal ambassador will be showcased on a captivating set of Forever stamps by the United States Postal Service! This extraordinary collection features endangered animal species from across the United States, with the release date set for May 19th, 2023. Among the featured creatures is the remarkable Attwater's prairie chicken, representing the Caldwell Zoo's commitment to wildlife conservation.
The stamps feature vibrant photographs of endangered animals carefully chosen from Joel Sartore's National Geographic Photo Ark project, a comprehensive documentation of over 13,000 species. This vital initiative aims to capture and raise awareness about every species residing in zoos, aquariums, and wildlife sanctuaries worldwide, fostering education and support for on-the-ground conservation efforts, including those championed by the Caldwell Zoo.
Attwater's Prairie Chicken, native to Texas, has experienced a significant decline in population due to the loss of its grassland habitat. Today, it is recognized as one of North America's most endangered bird species. Responding to this crisis, the Caldwell Zoo has become a key partner in conservation, working closely with the U.S. Fish and Wildlife Service to prevent the species from extinction.
Since 1992, the Caldwell Zoo has maintained a dedicated breeding center for these iconic Texas birds, demonstrating unwavering commitment to their preservation. Breeding these delicate birds requires substantial resources, including expertise in nutrition, proper shelters, and egg care, along with providing a tranquil environment. The zoo carefully introduces breeding-age birds, closely monitors and incubates their eggs in the specialized "brooder" house, ensuring their well-being.
Once the chicks reach a stage of independence, experts from the Fish and Wildlife Service transport them to protected refuges and meticulously reintroduce them into the wild. Over the years, this invaluable partnership has successfully bred and reintroduced hundreds of birds back into their natural habitat.
"The Caldwell Zoo takes immense pride in being part of a collective effort by Texas Zoos, in collaboration with Texas Parks and Wildlife, to safeguard the Attwater's Prairie Chicken—a precious Texas treasure and a crucial component of a rapidly diminishing ecosystem. Today, the Attwater's Prairie Chicken can only be found in Texas, with a wild population of approximately 180 individuals. With the generous support of our visitors, the dedicated staff at Caldwell Zoo is actively involved in propagating and reintroducing this unique bird into protected coastal grasslands in Texas."
The breathtaking collection of stamps will be available for purchase on May 19th. We encourage you to acquire this stunning collection and show your support for wildlife conservation. Together, we can make a difference and protect endangered species for generations to come.